GGMS (Ghar Ghar Maa Swasthya)

USAID's GGMS project seeks to improve the health of disadvantaged populations in Nepal by improving accessibility and availability of health goods and services, especially in hard-to-reach rural areas, through the use of social marketing and social franchising techniques. The project activities center on social marketing of CRS condoms, oral contraceptives, ORS and injectables. In addition, GGMS supports CRS efforts to become a more efficient and sustainable organization.
The GGMS Program aligns with the following GoN policies, guidelines and standards:
GGMS will align with the new National Health Sector Strategy (NHSS, 2015-2020) which envisions "equitable service utilization, strengthening service delivery and demand generation to underserved populations, including the urban poor" as a core principle.
GGMS will support the new National HIV and AIDS Strategy 2016- 2020, by providing products and services for the most-at-risk segments of the population (sex workers and their clients in hot zones, Men who have Sex with Men (MSM), migrant workers and families in hill areas, etc.).
GGMS supports the National Health Communication Strategy for Family Planning, Maternal and Child Health by implementing and partnering with others to implement behavior change communication (BCC). GGMS follows this strategy by using the recommended three mutually reinforcing approaches of advocacy, social mobilization, and BCC deliverables.



KEY STRATEGIES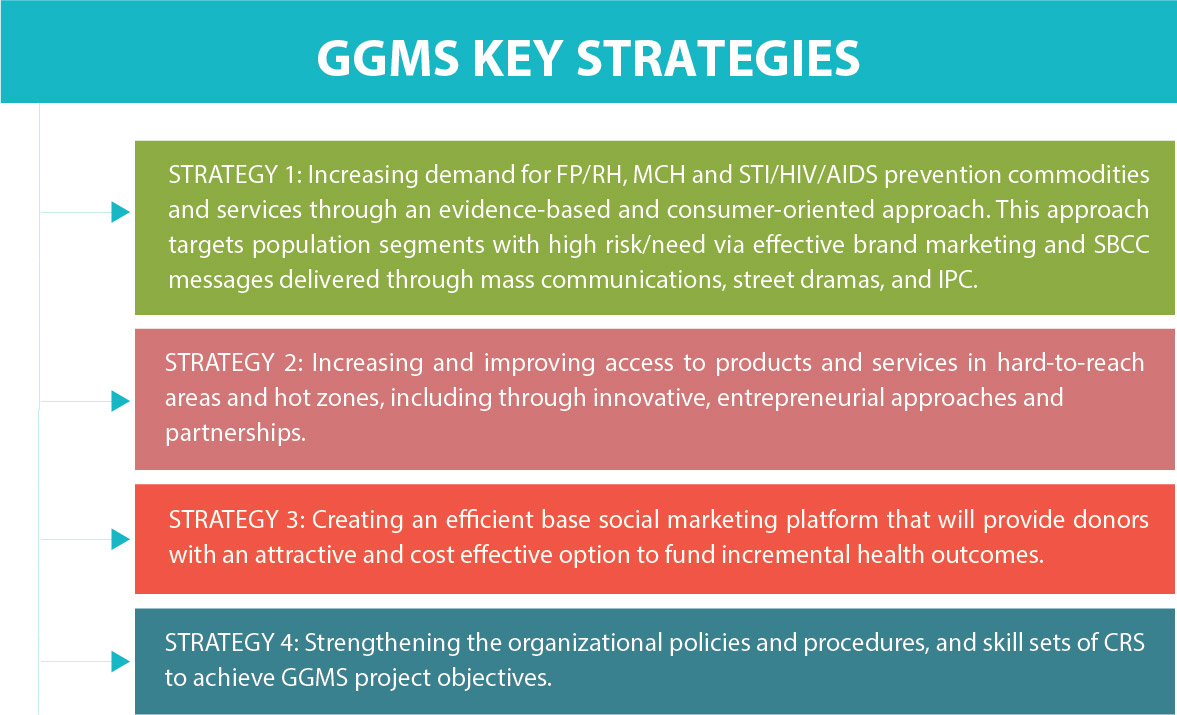 GGMS DISTRICT COVERAGE

GGMS KEY ACHIEVEMENTS